| Mustafa Usmani
SharePoint Document Management Integration with Dataverse
Microsoft supports SharePoint document management integration with Dataverse that enables us to extend the capabilities of SharePoint within Dataverse. Users can see their related SharePoint Documents in the Model-Driven apps and Power Portals now supports creating and displaying documents to and from SharePoint directly embedded in a form or advanced form in a portal.
To enable SharePoint Document Management within specific entities of the Dataverse, let's see the steps that are required to do that.
Make sure you are the System Administrator of the environment of the PowerApps and SharePoint.
Go to the Admin Center of the PowerApps and select your environment.
Now select Settings.
Select the highlighted Document Management Settings.

Select the highlighted option.

After doing that, another browser window will open and in that will all the entities of your environment. Select those on which you want to enable document management.

Click Next.
After processing you will get an alert that your Document libraries are being created. Click Ok to continue.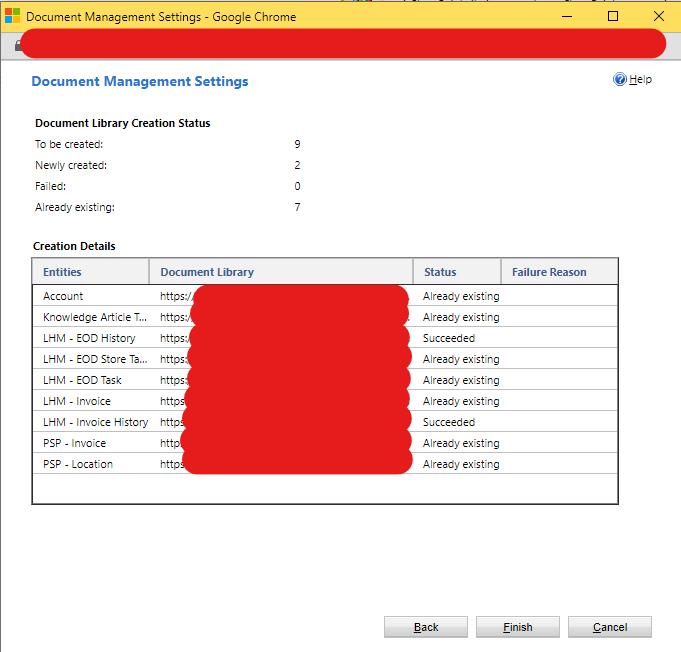 After processing all the entities that you enabled for Document management, their Status will be shown whether they have been created or were already existing.
Your entities corresponding document library will be created in your SharePoint selected site.

Then back in your Dataverse go the entities setting and enable Setting up SharePoint document management option under the heading Make this table an option when.
Now you're all set to manage your SharePoint documents through Power Portals and Model Driven apps.
Join us next time, as we continue our journey of learning canvas apps.Click here to learn more about Imperium's Power Apps Services. We hope this information was useful, and we look forward to sharing more insights into the Power Platform world.
---
---