Want to hire a website developer to get your business off the ground but shocked at how pricey it can be? Imperium experts have you covered. With our Power Pages Consultation Services, reduce the costs of website development without compromising style or information. With our guidance, you will be equipped with all security measures, industry standards, and regulatory requirements–all the information necessary to launch your website securely and confidently!
Why Your

Organization Needs
Power Pages Consulting
Customized Solutions
We understand your unique needs and design solutions that fit perfectly. Our consultants are Microsoft-certified experts on Power Pages and will set you up with a website, or multiple, that not only meets your current needs but has the capacity to expand and adapt to any direction your company may go in the future.
Effortless Implementation
With our guidance, it becomes very simple to get started with Power Pages for your business. Your time is valuable, so our onboarding takes as little as a week or two to set up.
Training and Support
We don't just create solutions, we empower your team. Upon onboarding, we ensure your team can effectively use Power Pages through extensive training and ongoing support.
What You

Can Expect from Our
Power Pages Consulting Services

We know that building a website can be stressful. That is why we are here to assist! Our Imperium Power Pages experts provide:

1.

Training on Power Pages tools.

2.

Business website development customized to your needs.

3.

A Microsoft-certified partner with a team of consultants and developers who are experts in Power Platform.

4.

Ongoing tech support to mitigate errors and troubleshoot issues as they pop up.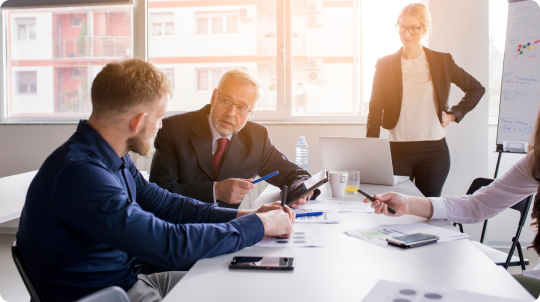 Speak

to a Power Pages Consultant

Connect with one of our Power Pages consultants and get started on your journey today!
Frequently

Asked Questions

What is Microsoft Power Pages?

Power Pages is a low-code platform that enables anyone to create data-powered, modern, and secure websites. It is part of the Microsoft Power Platform which also includes Power Automate, Power BI, and Power Apps.

How can Power Pages benefit my business?

Power Pages provides a faster, cost-effective way to create and maintain websites, enabling efficient collaboration among stakeholders. Your company will also maintain a strong, secure online presence and will be greatly adaptable to changing marketing needs due to its robust security features and scalability.

Is Power Pages suitable for non-technical users?

Yes! Power Pages is designed to be a low-code platform that enables anyone to create and manage websites with ease.

What types of websites can I create with Power Pages?

You can create a diverse range of websites including corporate websites to showcase your business, e-commerce platforms for online sales, community portals for collaboration, knowledge bases for use support, and booking websites/systems for event management. With Power Pages, the flexibility and features cater to so many different website types, making it a versatile solution for businesses of any kind.

Do I need any prior experience with web development to use Power Pages?

Nope. Power Pages is designed to empower individuals regardless of technical experience, including web development. The drag-and-drop interface, pre-built components, and templates make it accessible and user-friendly for everyone to begin making a website.

Is Power Pages secure for hosting external-facing websites?

Yes, it is very secure for hosting external-facing websites as it prioritizes security and compliance. Power Pages incorporates several security features and offers compliance settings to meet industry standards and regulatory requirements. This ensures that your external-facing websites built with Power Pages remain protected from potential threats and maintain the necessary security measures for a safe online presence.

Can I integrate Power Pages with other Microsoft tools and services?

Yes! Thanks to Power Pages' compatibility within the Microsoft Power Platform ecosystem, you can seamlessly integrate Power Pages with various other Microsoft tools and services. This enhances your capacity and streamlines your business operations and data management by letting you connect to tools such as Power Automate and Power BI.

What is the pricing model for Power Pages Consulting Services?

If you're inquiring about our pricing model for Power Pages Consulting Services, let's chat!
Contact Us | Imperium Dynamics.